DT:       DECEMBER 6, 2012
FR:       ALEXANDRA GREENBERG/MITCH SCHNEIDER
JOHN OCHOA/MSO
HARD HAUNTED MANSION PRESENTS:
DAY OF THE DEAD
RELEASES OFFICIAL RECAP VIDEO
Celebrating the successful launch of HARD HAUNTED MANSION PRESENTS: DAY OF THE DEAD, promoter HARD Events has today (December 6) released the official event video. Available now at the HARD YouTube channel, the video is a striking visual recap of the inaugural DAY OF THE DEAD festival that took place Saturday, November 3 at the Los Angeles State Historic Park and drew a sold-out crowd of 35,000 fans. Watch the official DAY OF THE DEAD recap video here: http://youtu.be/eKfK4HpseTY.
The blowout extravaganza boasted state-of-the-art staging and enhanced production like no other HARD event, featuring over 30 acts across four specially-themed music areas including performances from Justice (Live), Knife Party, Major Lazer, Zeds Dead, Diplo, Dillon Francis, Kill the Noise, Crookers and many more.
Directed by Kevin Kerslake, the DAY OF THE DEAD recap video shows thrilling live performance footage from headliners Justice as well as major acts Major Lazer, Gesaffelstein, Araabmuzik, Foreign Beggars, Destructo and many more. Capturing the essence of DAY OF THE DEAD and the multisensory experience HARD Events is known to create, the video also features high quality footage of audiences going wild and is set to music from Oliver ("MYB) and DAY OF THE DEAD performers Knife Party ("Bonfire").
Photo Credit: RUKES
Here's what the press had to say about DAY OF THE DEAD:
"The success of the HARD franchise suggests the fests are must-see events in themselves, beyond any particular lineup that's playing. This year's Day of the Dead, an update of the popular HARD Haunted Mansion series, sold out to the tune of 35,000 tickets."
—August Brown, Los Angeles Times (11/5/12)
"I run like a maniac from stage to stage, greedily wanting to see bits of every act to follow. I give Major Lazer one song before popping over to the Earstorm stage for a good half hour of Kill The Noise, who goes through the tracks off his new EP that drops on OWSLA (Skrillex's label) on Tuesday.  Sonny himself is spotted side stage, cheering him along. I miss Nadastrom (couldn't do it all!) but manage to see Maya Jane Coles for a mere three minutes. Knife Party sucked me in for almost their entire set; I find myself in a dubstep mood and it's too good to walk away. Then I'm off to Dillon Francis, who was the favorite at HardSummer. I don't recognize his new platinum blonde "do" but am grateful that I made the connection because he drops some ridiculous beats and I work off my sweet potato fries in his audience."
—Nicole Pajer, LA WEEKLY (11/5/12)
"With views overlooking the Los Angeles skyline and convenient public transportation, the Los Angeles Historic Park could be in the running for the best venue in the Los Angeles area to host a music festival. Combine the location with amazing music spanning multiple genres from American dubstep to modern day electro; let's just say the festival went off with a bang."
—Kevin Camps, deathandtaxes (11/5/12)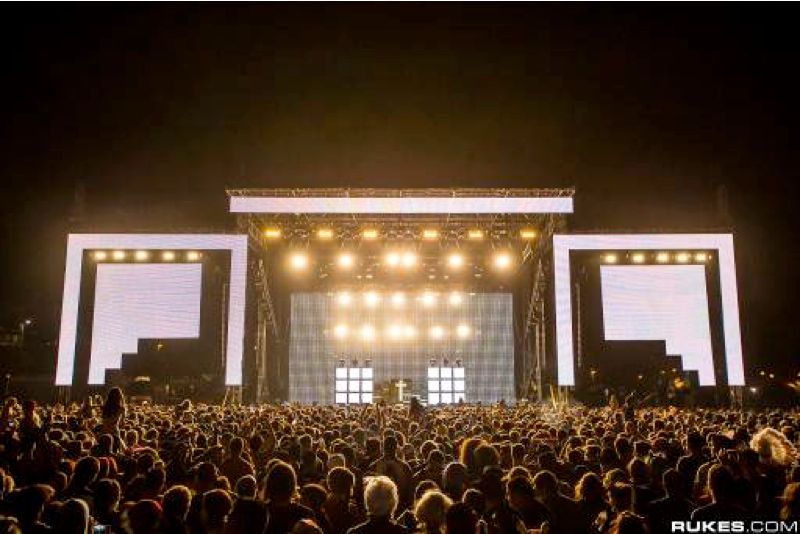 Photo Credit: RUKES
www.harddayofthedead.com
www.hardfest.com
www.facebook.com/hardfest
www.twitter.com/HARDfest
Press Releases & Assets:
www.msopr.com/n/client-roster/hard-festivals/
# # #
FOR PRESS INQUIRIES, PLEASE CONTACT:
MSO: 818-380-0400
Alexandra Greenberg x223, agreenberg@msopr.com
Mitch Schneider x235, mschneider@msopr.com
John Ochoa x231, jochoa@msopr.com