DT: DECEMBER 7, 2010

FR: ANGELA VILLANUEVA/BARI LIEBERMAN, MSO
BEDOUIN SOUNDCLASH
CONTINUE SUCCESSFUL NORTH AMERICAN TOUR
IN SUPPORT OF
'LIGHT THE HORIZON'
CRITICAL PRAISE FOR ALBUM AND LIVE PERFORMANCES
LOS ANGELES SHOW THURSDAY, DECEMBER 9 AT THE TROUBADOUR
PHYSICAL RELEASE SPRING 2011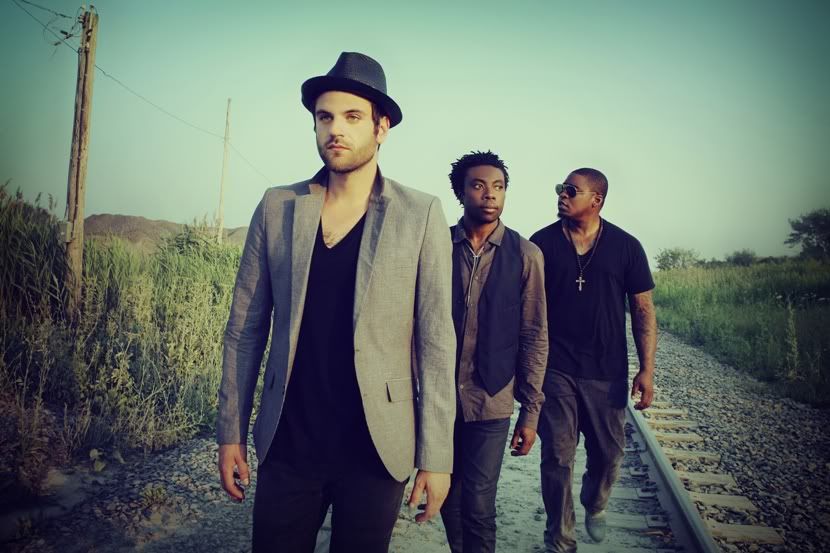 Juno Award-winning trio BEDOUIN SOUNDCLASH are in the mist of a successful North American tour in support of their latest release, LIGHT THE HORIZON. Recorded via the band's own label Pirates Blend Records, the new album is currently available digitally in the U.S. through Nat Geo Music with a physical release set for spring 2011.

With their innovative fusion of reggae, rock, punk and soul, BEDOUIN SOUNDCLASH has garnered critical praise globally. The band has performed this year in all parts of the world including Shanghai, China, Perth, Australia, Bombay, India, sold-out all U.K. shows in advance and a well-received, much-anticipated homecoming to their native Canada. In a recent review in the Vancouver Observer, John Tanner noted: "Live dub delay effects, ultrafast breakbeats and passionate vocals brought the seated venue to its feet and packed up against the stage…The performance created a natural high as listeners danced wildly to the music. A few verses of 'Stand By Me' introduced a stunning 'When The Night Feels My Song' with the help of St. James Choir." (12/5/10) A video of that unique performance can be seen here: http://www.youtube.com/watch?v=bySLbLGkteA.

Here in the States, City Arts Magazine (Seattle, WA) praised the band: "On the heels of its album Light the Horizon, the Canadian trio's energetic hybrid of ska and reggae makes for a live show in which distant head-nodding is an impossibility." (12/10) The Portland Tribune wrote: "Bedouin Soundclash was named Canada's Best New Artist in the Juno Awards a few years back, and it's easy to hear why–the trio…creates you-must-get-up-and-dance music drawn from reggae, rock, punk and soul. They're easy on the ears and good for the soul." (12/2/10) BEDOUIN SOUNDCLASH will conclude their current tour on Thursday, December 9 in Los Angeles at the Troubadour.

The band–founding members Jay Malinowski (vocals, guitar) and Eon Sinclair (bass) along with new addition Sekou Lumumba (drums)–recorded LIGHT THE HORIZON in Philadelphia with famed DJ/producer King Britt, a member of the groundbreaking alt '90s hip-hop act Digable Planets. King Britt and the City of Brotherly Love inspired the band to dig into their soul/R&B roots to evolve their sound and create something a little more urban.

On tracks such as "A Chance of Rain" and "Mountain Top," longtime fans will hear the expected syncopated island beat but this time supplemented by that seductively lazy delivery and some gorgeously brash, brassy horns for added soul. There's the anthemic, yet melodically grounded "Elongo" and the monumental "Brutal Hearts," a devastatingly gorgeous duet between Malinowski and 20-year-old soul chanteuse Beatrice Martin (aka Coeur de pirate) with string arrangements by the legendary friend to Philadelphia soul Larry Gold.

BEDOUIN SOUNDCLASH is also featured on a newly released mixtape produced by King Britt. The mix includes tracks from Bad Brains, Charlie Winston, Medi, Michael Rault, Chuck Treece, Sylk130 feat G-Love, Armistice and bonus beats by the Soul Proprietor. As a thank you to their loyal fans, BEDOUIN SOUNDCLASH is offering the King Britt Presents: The Pirates Blend mixtape for free now via this link: http://www.sonymusic.ca/bedouinsoundclash/external/pbmix.

Additional Critical Acclaim for LIGHT THE HORIZON:
"…Malinowski settles in with reverb-sweetened rhythm guitar lines and loping, lover's-rock vocals. Too, [producer King] Britt has encouraged the band to embrace that more R&B-influenced sound…it pays off dividends, as with the lovely 'Brutal Hearts' (a duet with a young singer named Beatrice Martin) and the album's string-drenched ballad 'Elongo.'"
–Robert Ham, ALTPRESS.COM (Website for Alternative Press), November 2010
"The Toronto-based group is undoubtedly quite familiar with the brilliance of northern lights on the horizon, and this new 10-track collection is yet another shining example of the band's musical brilliance as heard through its kaleidoscope of sound… Songs like 'Mountain Top,' 'Fools Tattoo,' 'No One Moves, No One Gets Hurt,' 'Rolling Stone,' and 'Follow the Sun' spotlight the band's musical evolution, while showcasing its classic roots-rock-reggae sound."
–Jim Villanueva, DIAL GLOBAL (Artist Profile), November 2010
"The group forges a musical path that embodies the diverse musical preferences of its members: lead singer Jay Malinowski's soulful wail and hypnotic rhythmic guitar grooves and Eon Sinclair's deep dubbing bass."
–Kathleen Dixon, SAN FRANCISCO CHRONICLE, December 5, 2010
"[Bedouin Soundclash] create some of the most innovative reggae songs of recent memory…Since then they have captured international attention playing in places as far away as China at the Shanghai World Expo. Their latest album, Light the Horizon, further pushes their musical envelope not only combining their earlier elements of Canadian alt-rock and Jamaican reggae, but also adding elements of calypso, country, and Police-esque 1980s pop. To keep their sound fresh, the band also adds French Canadian pop singer Coeur de Pirate on the song 'Brutal Hearts' to add a female punch to their already diverse style. Already holding on to their strong catalog of songs, the newest album only deepens Bedouin Soundclash's repertoire of songs, as they show the bands maturation while holding on to the band's energy, which is vital to their style of reggae…their live show expects to be nothing short of reggae filled dancehall ecstasy."
—ART VOICE (Buffalo, NY), November 3, 2010
"Light the Horizon indeed brings out a few new dimensions in the Bedouin Soundclash sound. The reggae influence that has always been prominent is, of course, still present on the new CD, with that distinctive pulse powering 'Mountain Top' and 'The Quick & the Dead.' But the rhythmic base is more varied, and there is a bit more of a soul influence (a natural, considering the album was recorded in Philadelphia) and a song like the string-laden 'Elongo,' is a new twist with its expansive, Peter Gabriel-ish sound."
–Alan Sculley, NORTH COUNTY TIMES (San Diego, CA), December 1, 2010
"The trio of Canadians return to San Francisco with a fresh line-up and a new record to bring a dose of sunshine to the ever-darkening December days."
—BAY STAGES (San Francisco, CA), December 2010
"Light the Horizon charts a new course for Bedouin Soundclash in 2010 – one that is awash with optimism, shimmering with possibilities & heralds the beginning of what could be the most defining chapter in the life of one of Canada's finest & freshest musical entities."
—EVENTFUL.COM, September 25, 2010
"The 'clash' comes from the combo of reggae and ska, although we see it as more of a beautiful blend than a clash."
—BOSTON MUSIC SPOTLIGHT, November 5, 2010
"In 'Brutal Hearts'…Coeur de Pirate (Béatrice Martin) and Soundclash's Jay Malinowski turn down the tempo – and the lights – and turn up the heat, creating a three minute piece of dark, steamy perfection."
—SOUNDOFTHESOUND.COM, December 3, 2010
BEDOUIN SOUNDCLASH's remaining U.S. tour dates:
DATE

CITY

VENUE

w/ Moneybrother supporting

Tue

12/7

San Francisco, CA

Slim's

Wed

12/8

Solana Beach, CA

Belly Up Tavern

Thu

12/9

West Hollywood, CA

The Troubadour
About Bedouin Soundclash:
Formed a decade ago and named after Israeli fusion artist/producer Badawi's 1996 release, Bedouin Soundclash debuted in 2001 with the album Root Fire. Their acclaimed sophomore release Sounding a Mosaic (2004) featuring the hit single, "When the Night Feels My Song" and produced by legendary punk-reggae bass player Darryl Jenifer of Bad Brains, earned Bedouin Soundclash their first Juno Award for Canada's Best New Artist. Follow up album, 2007's Street Gospels also produced by Jenifer, earned a "Pop Album of the Year" nomination and "Video of the Year" nomination for the single "Walls Fall Down" at the 2008 Junos as well as three Much Music Video Award nominations for their video for "Until We Burn in the Sun" in 2009. In addition to No Doubt, the band has also shared the stage with Ben Harper, Coldplay, Nine Inch Nails, Damian Marley, The Roots, Gogol Bordello, and Thievery Corporation among others.
www.bedouinsoundclash.com
www.facebook.com/bedouinsoundclash
www.youtube.com/piratesblendrecords
www.myspace.com/bedouinsoundclash
www.piratesblend.com
www.natgeomusic.net
###
For additional info on BEDOUIN SOUNDCLASH, contact:
MSO 818-380-0400
Bari Lieberman x222 blieberman@msopr.com
Angela Villanueva x232 avillanueva@msopr.com
BEDOUIN SOUNDCLASH CONTINUE SUCCESSFUL NORTH AMERICAN TOUR IN SUPPORT OF 'LIGHT THE HORIZON;' CRITICAL PRAISE FOR ALBUM AND LIVE PERFORMANCES