DT: OCTOBER 19, 2010
FR: BARI LIEBERMAN/ANGELA VILLANUEVA, MSO
BEDOUIN SOUNDCLASH
TO RELEASE NEW ALBUM
'LIGHT THE HORIZON'
DIGITALLY IN THE U.S. OCTOBER 26
WITH A PHYSICAL RELEASE IN EARLY 2011

KICKS OFF U.S. TOUR DATES
IN NEW YORK CITY NOVEMBER 3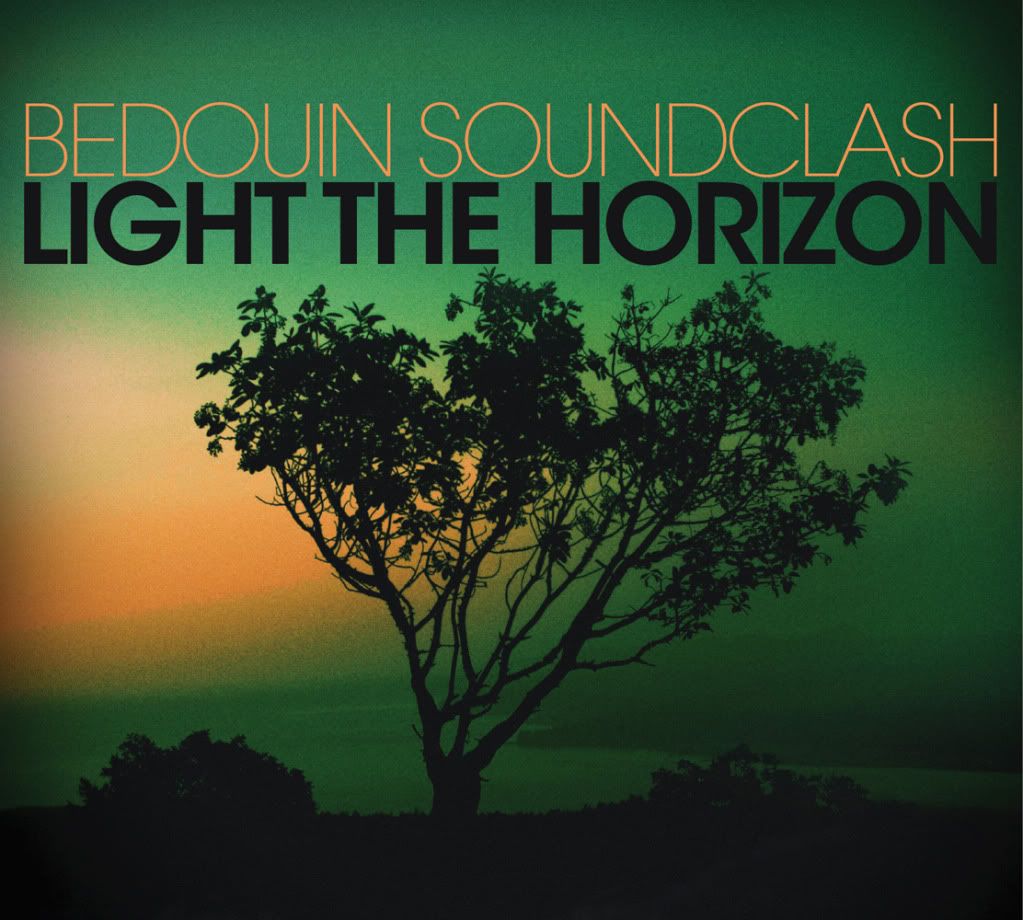 Toronto-based trio BEDOUIN SOUNDCLASH is set to release their fourth studio album LIGHT THE HORIZON on October 26 in the United States. Recorded via the band's own label Pirates Blend Records, the new album will be distributed in the U.S. through Nat Geo Music initially as a digital-only release with a physical release in early 2011.
The Juno Award-winning band–founding members Jay Malinowski (vocals, guitar) and Eon Sinclair (bass) along with new addition Sekou Lumumba (drums)–are determined to prevail after a period of reflection and restructuring. Since BEDOUIN SOUNDCLASH's last album, 2007's Street Gospels, drummer Pat Pengelly left the group prompting them to take a break during which Malinowski released a solo album and the band formed Pirates Blend Records. Returning now with LIGHT THE HORIZON, BEDOUIN SOUNDCLASH is back and in a fresh new way.
"It was necessary and I think it was great because it allowed us to reconnect with ourselves a little bit," says Sinclair. "Since then it's been amazing. Honestly, never better. Everyone's feeling a lot more comfortable and healthy and positive and energized."
LIGHT THE HORIZON–currently out in their native Canada–has received early critical acclaim (see quotes below). The band recorded the album in Philadelphia with famed DJ/producer King Britt, a member of the groundbreaking alt '90s hip-hop act Digable Planets who has worked with Macy Gray and Santigold and remixed tracks by everyone from Miles Davis to Everything But the Girl. The producer and City of Brotherly Love inspired the band to dig into their soul/R&B roots to evolve their sound and create something a little more urban. King Britt brought the guys to his regular Monday night Back 2 Basics residency at the club Silk City, where area musicians such as Jill Scott, Erykah Badu and members of The Roots still show up, sit in, and make music magic, which encouraged BEDOUIN SOUNDCLASH to record the new album live off the floor–something new and liberating for them.
Of the recording process, King Britt has said, "Working with Bedouin Soundclash has been a breath of fresh air in our crazy music business. They are a killer band, who actually play their instruments, know their history and respect the architects!"
On tracks such as "A Chance of Rain" and "Mountain Top", longtime fans will hear the expected syncopated island beat but this time supplemented by that seductively lazy delivery and some gorgeously brash, brassy horns for added soul. There's the anthemic, yet melodically grounded "Elongo" and the monumental "Brutal Hearts," a devastatingly gorgeous duet between Malinowski and 20-year-old soul chanteuse Beatrice Martin (aka Coeur de pirate) with string arrangements by the legendary friend to Philadelphia soul Larry Gold (see full track listing below).
BEDOUIN SOUNDCLASH will also bring their innovative fusion of reggae, rock, punk and soul back to the United States this fall for a headlining run with Moneybrother supporting. It kicks off November 3 in New York City at Le Poisson Rouge, after which the band will make stops in cities such as Washington, DC, Cambridge, MA and Philadelphia, PA before hitting the Midwest for shows in Detroit, Chicago and Minneapolis. They'll round out their month-long outing on the West Coast in Seattle, Portland, San Francisco, and San Diego before ending at The Troubadour in West Hollywood on December 9 (see full tour dates below). The band previously toured the States during the summer of 2009 when they were hand-picked to support No Doubt on the Midwest leg of their reunion tour.
Critical Soundbites for LIGHT THE HORIZON:
"…their strongest album to date…Light The Horizon is the sound of a reinvigorated band finding a new creative grip…Bedouin Soundclash began their careers as a reggae rock band, so it shouldn't be any surprise they've chosen to mix more styles than before into their music. Light The Horizon brilliantly showcases a newfound musical maturity."
–Kate Harper, CHARTATTACK.COM, September 28, 2010
"'Mountain Top,' the first single, is a great song, a ska-inflected tune with an irresistible hook, a message of persistence and a singalong chorus worthy of early Police: 'Call it what you want, call it old punk rock.' Of the other tracks, 'May You Be the Road' saunters alongside lush strings, while 'Fools Tattoo' gets the bright polish of horns, and 'Brutal Hearts' features a steamy duet between Malinowski and French-Canadian songstress Coeur de Pirate. Recorded in Philadelphia by King Britt, who specializes in remixes, there's a new soulfulness apparent in the band's reggae hybrid. The songs pulsate with a resilient energy, low-key and unhurried, topped by the reedy soul of Malinowski's unadorned vocals."
–Lynn Saxberg, THE VANCOUVER SUN, September 28, 2010
"Still owing an influence to The Police and The Clash, the group's new record is nevertheless both deeper and richer than their earlier work, and features not only more harmonizing and brass instruments, but also an experimental use of arrangements and beats."
–Ben Kaplan, NATIONAL POST, September 27, 2010
"…there are ample instances of growth and departure, notably in hauntingly spare moments such as 'No One Moves, No One Gets Hurt' and 'Brutal Hearts,' a duet between Malinowski and Coeur de Pirate's Beatrice Martin."
–Leah Collins, CANADA.COM, September 30, 2010
LIGHT THE HORIZON track Listing:
1) Mountain Top
2) Fools Tattoo
3) May You Be the Road
4) Brutal Hearts
5) Elongo
6) No One Moves, No One Gets Hurt
7) The Quick & The Dead
8) Rolling Stone
9) A Chance of Rain
10) Follow the Sun
BEDOUIN SOUNDCLASH U.S. tour dates:
DATE

CITY

VENUE

w/ Moneybrother supporting

Wed

11/3

New York, NY

Le Poisson Rouge

Thu

11/4

Washington, DC

Rock and Roll Hotel

Fri

11/5

Buffalo, NY

The Town Ballroom

Sat

11/6

Providence, RI

Jerky's Music Hall

Sun

11/7

Cambridge, MA

Middle East Downstairs

* Mon

11/8

Philadelphia, PA

Silk City

* Sat

11/20

Detroit, MI

Shelter

* Sun

11/21

Chicago, IL

Subterranean

* Tue

11/23

Minneapolis, MN

Varsity Theater

Fri

12/3

Bellingham, WA

The Wild Buffalo

Sat

12/4

Seattle, WA

El Corazon

Sun

12/5

Portland, OR

Hawthorne Theatre

Tue

12/7

San Francisco, CA

Slim's

Wed

12/8

Solana Beach, CA

Belly Up Tavern

Thu

12/9

West Hollywood, CA

The Troubadour
* indicates Moneybrother will not be performing
About Bedouin Soundclash:
Formed a decade ago and named after Israeli fusion artist/producer Badawi's 1996 release, Bedouin Soundclash debuted in 2001 with the album Root Fire. Their acclaimed sophomore release Sounding a Mosaic (2004) featuring the hit single, "When the Night Feels My Song" and produced by legendary punk-reggae bass player Darryl Jenifer of Bad Brains, earned Bedouin Soundclash their first Juno Award for Canada's Best New Artist. Follow up album, 2007's Street Gospels also produced by Jenifer, earned a "Pop Album of the Year" nomination and "Video of the Year" nomination for the single "Walls Fall Down" at the 2008 Junos as well as three Much Music Video Award nominations for their video for "Until We Burn in the Sun" in 2009. In addition to No Doubt, the band has also shared the stage with Ben Harper, Coldplay, Nine Inch Nails, Damian Marley, The Roots, Gogol Bordello, and Thievery Corporation among others.
www.bedouinsoundclash.com
www.facebook.com/bedouinsoundclash
www.youtube.com/piratesblendrecords
www.myspace.com/bedouinsoundclash
www.piratesblend.com
www.natgeomusic.net
###
For additional info on BEDOUIN SOUNDCLASH, contact:
MSO 818-380-0400
Bari Lieberman x222 blieberman@msopr.com
Angela Villanueva x232 avillanueva@msopr.com
BEDOUIN SOUNDCLASH: TO RELEASE 'LIGHT THE HORIZON' DIGITALLY IN THE U.S. OCTOBER 26; KICKS OFF U.S. TOUR DATES IN NEW YORK CITY