DT: DECEMBER 20, 2010
FR: ALEXANDRA GREENBERG/MSO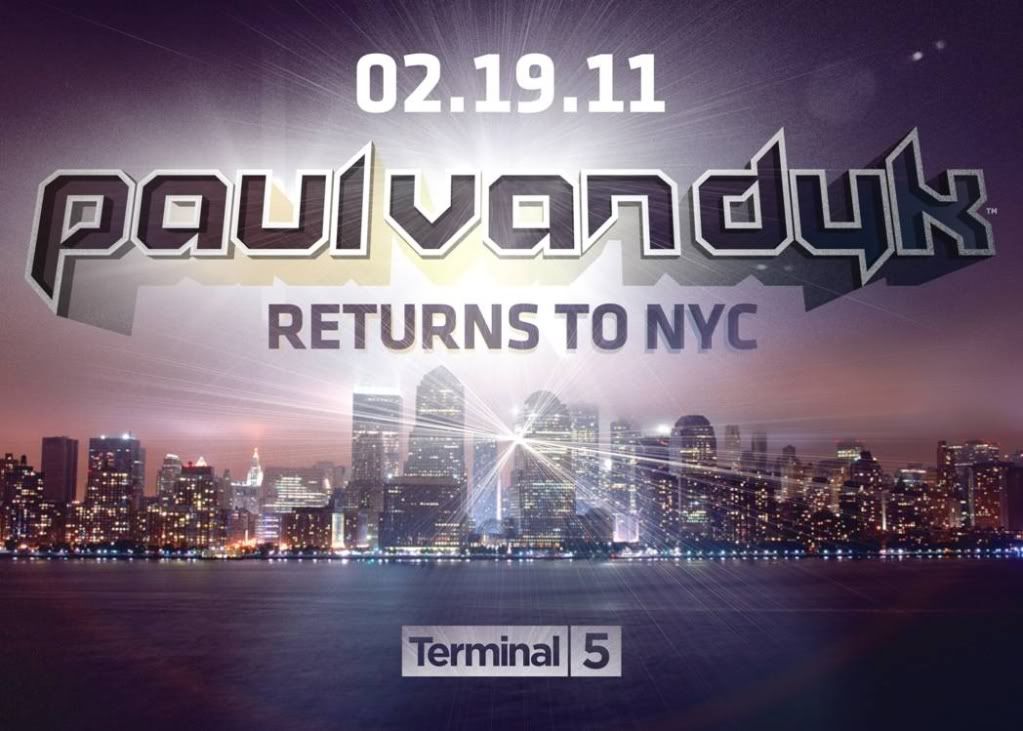 AREA EVENTS AND BOWERY PRESENTS
PAUL VAN DYK
AT TERMINAL 5
GLOBALLY ACCLAIMED DJ AND AUDIO ARCHITECT RETURNS
TO NEW YORK CITY FOR ONE OF A KIND SHOW ON
SATURDAY, FEBRUARY 19
TICKETS ON SALE NOW AT
http://tinyurl.com/29d28cp
Electronic music trailblazer PAUL VAN DYK (PvD) has a long history of extraordinary appearances in New York City and is hands down one of the most revered names for the best dance music events in town. Now the global icon has announced he will return for an all-ages special engagement at Terminal 5 on Saturday, February 19 as part of a select run of North American winter tour dates. Tickets are on sale now—just in time to make a great holiday gift for any nightlife enthusiast.
"New York has always been one of my favorite destinations in the U.S.," states VAN DYK. "From my residencies at Limelight (Disco 2000), Twilo and the Central Park shows, I always felt a very special connection with my audience there. I chose Terminal 5 because it is a new location for me and it marks a new decade of PvD shows in New York City."
Creating the right atmosphere has always been a major part of presentation at a PvD show. For Terminal 5, VAN DYK and his team are currently working with a major festival stage designer and light artist to create a fascinating surrounding for the music. With rumblings there is a new artist album in the works for 2011, fans will get a sneak preview to the upcoming visual concept of its complimenting live tour.
Adds PvD, "I will play some of my own classics, but also a lot of new material from the upcoming album as I'm nearly finished with the production. There will be a lot of great collaborations on there which I'm very excited about and I can't wait for it to be released."
Tickets for PAUL VAN DYK at Terminal 5 are available now from $25 to $40 at Ticketmaster at:
http://tinyurl.com/29d28cp
Catch PAUL VAN DYK in North America this winter:
| | | | |
| --- | --- | --- | --- |
| DATE | | CITY | VENUE |
| Fri | 1/28 | Atlanta, GA | Opera |
| Sat | 1/29 | Toronto, ON | Guvernment Kool Haus |
| Thu | 2/17 | Boston, MA | Royale |
| Fri | 2/18 | Montreal, QC | Telus Theater |
| Sat | 2/19 | New York City, NY | Terminal 5 |
View FUSE TV's interview with PAUL VAN DYK from the Voodoo Experience Festival in
New Orleans here:
www.fuse.tv/tours/voodoo/voodoo10-video5.html
About PAUL VAN DYK:
Grammy-nominated artist, globally acclaimed DJ and audio architect Paul van Dyk continues to dominate the electronic music charts and appears at the pinnacle of every Top DJ list around the globe. PvD, as his fans have nicknamed him, has been ranked the world's No. 1 DJ by DJ Magazine's "Top 100 DJs" poll two times, something less than a handful of DJs have ever achieved. The Berlin, Germany-based artist last released VOLUME in 2009, an album of his best works to date—encompassing selections from his massive, 15-year catalogue [45 RPM (1994), Seven Ways (1996), Out There And Back (2000), the Grammy-nominated Reflections (2003) and In Between (2007)]. His new album will be released summer 2011. Aside from his musical activity, Paul van Dyk has always dedicated a significant part of his life to politics and social justice. In 2001 he did a charity benefit for NYC's Ground Hero Kids and in 2004, PvD was the only electronic artist involved in a nationwide tour with the Rock The Vote campaign. He most recently received Berlin's Medal of Honor (Landesverdienstorden) in recognition of his work with Ruckenwind, a charity organization he founded dedicated to helping poor children in Berlin. He joins a distinguished list of arts and political establishment figures with this honor.
www.paulvandyk.com
www.twitter.com/paulvandyk
www.facebook.com/PVD


www.terminal5nyc.com/event/5713
# # #
For interviews, press list or more information on PAUL VAN DYK, contact:
MSO 818 380 0400
Alexandra Greenberg x223, agreenberg@msop.com
John Ochoa (Tour) x230, jochoa@msopr.com
AREA EVENTS AND BOWERY PRESENTS PAUL VAN DYK AT TERMINAL 5; GLOBALLY ACCLAIMED DJ AND AUDIO ARCHITECT RETURNS TO NEW YORK CITY FOR ONE OF A KIND SHOW ON SATURDAY, FEBRUARY 19; TICKETS ON SALE NOW AT http://tinyurl.com/29d28cp