DT: MARCH 7, 2011

FR: ALEXANDRA GREENBERG/JOHN OCHOA
MSO
PAUL VAN DYK
RETURNS TO MIAMI FOR A SPECIAL PERFORMANCE DURING
WINTER MUSIC CONFERENCE 2011
SATURDAY, MARCH 12 AT MANSION
PAUL VAN DYK TO ADDRESS
THE WINTER MUSIC CONFERENCE WITH CLOSING REMARKS
Grammy-nominated artist and globally acclaimed DJ PAUL VAN DYK has announced that he will return to Miami for a special engagement at Mansion Saturday, March 12 (www.mansionmiami.com) as part of this year's Winter Music Conference. Joining him at the show will be special guests Filo & Peri and Dan Marciano. Tickets are on sale now at: http://tinyurl.com/4aw2r2n.
Speaking from his studio in Berlin, PAUL VAN DYK says, "Miami in March is the place to be. I really look forward to giving my fans the Pure PVD experience in a proper club setting with a full set. I have been working on my next artist album EVOLUTION during the last months and I can't wait for the opportunity to give everyone a preview of some of the tracks from the album on that sound system! See you in Miami!"
The Winter Music Conference has asked PAUL VAN DYK to share his thoughts in a special panel "Closing Remarks With Paul van Dyk." The panel is scheduled for 1:00 pm on Saturday, March 12 at the Miami Convention Center.
PAUL VAN DYK is also nominated for several International Dance Music Awards (IDMA) including "Best European DJ," "Best Global DJ" and "Best Podcast" for VONYC Sessions. Winners will be announced at the IDMA ceremony Thursday, March 10 at Dolce in South Beach.
Catch Paul van Dyk in North America:
| | | | |
| --- | --- | --- | --- |
| DATE | | CITY | VENUE |
| Sat | 3/12 | Miami, FL | Mansion |
| Fri | 3/18 | San Francisco, CA | 1015 |
| Sat | 3/19 | Las Vegas, NV | Marquee Las Vegas |
| Sat | 4/16 | Indio, CA | Coachella Valley Music & Arts Festival |
About PAUL VAN DYK:
Grammy-nominated artist, globally acclaimed DJ and audio architect Paul van Dyk continues to dominate the electronic music charts and appears at the pinnacle of every Top DJ list around the globe. PvD, as his fans have nicknamed him, has been ranked the world's No. 1 DJ by DJ Magazine's "Top 100 DJs" poll two times, something less than a handful of DJs have ever achieved. The Berlin, Germany-based artist last released VOLUME in 2009, an album of his best works to date—encompassing selections from his massive, 15-year catalogue [45 RPM (1994), Seven Ways (1996), Out There And Back (2000), the Grammy-nominated Reflections (2003) and In Between (2007)]. His new album will be released summer 2011. Aside from his musical activity, Paul van Dyk has always dedicated a significant part of his life to politics and social justice. In 2001 he did a charity benefit for NYC's Ground Hero Kids and in 2004, PvD was the only electronic artist involved in a nationwide tour with the Rock The Vote campaign. He most recently received Berlin's Medal of Honor (Landesverdienstorden) in recognition of his work with Ruckenwind, a charity organization he founded dedicated to helping poor children in Berlin. He joins a distinguished list of arts and political establishment figures with this honor.
www.paulvandyk.com
www.twitter.com/paulvandyk
www.facebook.com/PVD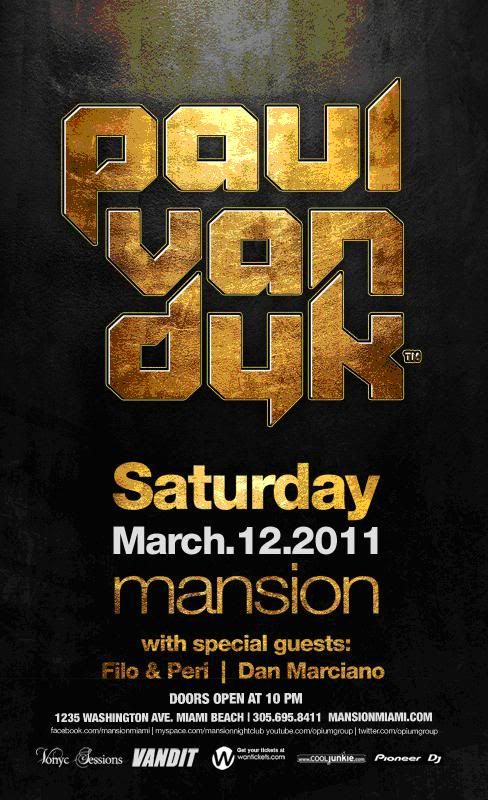 # # #
For interviews, press list or more information on PAUL VAN DYK, contact:
MSO 818 380 0400
Alexandra Greenberg x223, agreenberg@msopr.com
John Ochoa (Tour) x230, jochoa@msopr.com
PAUL VAN DYK RETURNS TO MIAMI FOR A SPECIAL PERFORMANCE DURING WINTER MUSIC CONFERENCE 2011 SATURDAY, MARCH 12 AT MANSION; PAUL VAN DYK TO ADDRESS THE WINTER MUSIC CONFERENCE WITH CLOSING REMARKS