DT: DECEMBER 22, 2010
SLASH:
TO JOIN OZZY OSBOURNE FOR
FIVE-WEEK NORTH AMERICAN ARENA TOUR
BEGINNING JANUARY 16 IN OMAHA, NE
AND WRAPPING FEBRUARY 22 IN JACKSONVILLE, FL
SLASH CHATS ABOUT HEADING OUT ON THE ROAD WITH OZZY, AND COLLABORATING WITH FERGIE FOR HIS CURRENT SINGLE/VIDEO
"BEAUTIFUL DANGEROUS"
2010 was a landmark year for SLASH, and the iconic, Grammy-winning rock guitarist shows no signs of slowing down in 2011 including a return to the arena circuit this winter and a ceremony (date TBA) to receive his Star on Hollywood's iconic Walk of Fame. *See Q&A below.
SLASH will join Ozzy Osbourne for a five-week U.S. arena tour beginning January 16 in Omaha, NE and wrapping February 22 in Jacksonville, Fl. For the trek with his bandmates Myles Kennedy (lead vocals), Bobby Schneck (rhythm guitar), Todd Kerns (bass) and Brent Fitz (drums), SLASH will pull songs from his first-ever true solo album (Dik Hayd Records via EMI Label Services), a certain selection of Guns N' Roses tunes, a little Velvet Revolver and even some Snakepit gems. (dates listed below).
In April, the guitarist and songwriter released the acclaimed SLASH which debuted on the Billboard Top 200 chart at #3 (#1 on the Rock chart, #1 on the Independent chart, and #1 on the Hard Music chart). Digitally, the album also became the #1 overall digital album and hit #1 on iTunes in 13 countries. Internationally, the disc achieved Top 5 chart positions on over a dozen major territories, hitting #1 in both Japan and New Zealand. The 14-song disc features collaborations with vocalists Ozzy Osbourne, Iggy Pop, Ian Astbury, Lemmy Kilmister, Chris Cornell, Rocco DeLuca, Dave Grohl, Myles Kennedy, Kid Rock, Adam Levine of Maroon 5, Duff McKagan, M. Shadows of Avenged Sevenfold, and Andrew Stockdale of Wolfmother.
The current single and video for the song "Beautiful Dangerous" features Fergie of the Black Eyed Peas. Watch the eyebrow-raising clip here: http://www.vevo.com/watch/slash/beautiful-dangerous/US9T51000041.
Here's a Q&A with SLASH where he talks about heading out with Ozzy; what fans can expect on the road; shooting the steamy clip "Beautiful Dangerous" with Fergie; and what surprises him most about his career so far.
You and Ozzy have been friends for a long time, he sang one of the songs here on your album: "Crucify The Dead," which you wrote together along with Kevin Churko. You're also going on tour with him in early 2011, which will mark the first official arena tour on this album cycle. Can you talk about your anticipation of these shows?
SLASH: "We have done a bunch of arenas, but this will be the first arena tour straight. The thing I am looking forward to most is just working with Ozzy. I have done a lot of gigs with him and we see each other a lot here and there, but to just do a tour with Ozzy, I am looking forward it. Being in a sort of day-after-day arena setting will be interesting. All things considered, I show up and we go for it; I have no definitive expectations on this. I just know it will be a blast. Our band did 8 months of touring earlier this year, all the way up until October, so we have the whole rig basically together. For the tour with Ozzy, we are changing some songs out and bringing some new songs in."
Tell us about the song selection for the upcoming tour…what is the balance you are looking to achieve?
SLASH: "We do a lot of songs from the new record just because it was so well-received and then we play a certain selection of Guns N' Roses songs and a little bit Velvet Revolver stuff and even a couple Snakepit songs. We're probably playing from 50 minutes to an hour on this run with Ozzy. We sort of have to squeeze all in, so I will take the highlights of the whole thing and put it all together."
For your current single "Beautiful Dangerous," you teamed up with Fergie of Black Eyed Peas. What do you feel she added as a vocalist to the song?
SLASH: "Fergie's style and demeanor is a raw and sexy kinda thing, and that is what I was looking for in the song. I thought of her automatically because I'd worked with her before and knew she had a certain rock element with a certain kind of easy charm that nobody was familiar with coming from her."
The video with Fergie is provocative–she slips you a roofie–and it contains some steamy romance scenes. Can you describe the chemistry between the two of you in this video?
SLASH: "Fergie and I've been friends for awhile now and have a kinship personality-wise so when I was thinking about doing a video, I called her up and told her we needed a concept and she came back immediately wanting to play an "over- zealous stalker fan." I just knew what she was talking about and I know she knew GNR back in the day plus I know she has a perspective on that whole rock-star trip and the kind of fans that become really obsessive. We threw the concept together and she basically ran the show as far as her character. She came out and went for it, like bam "this is me, I am going to be this" and I of course was going to play myself. It looks steamy, but it was just our vision of what that situation would look like. It was an easy shoot–she is very professional and I would like to think I am professional. We got through a two-location shoot in one day. "
What has surprised you most in your career so far?
SLASH: "All things considered, a day doesn't go by where I don't get surprised by something. I love playing music as much as if not more so than I did when I was 19; that compared to most of my peers is pretty surprising. I wake up every day and get really excited about doing stuff that I have been doing for the last 30 years. I just love it."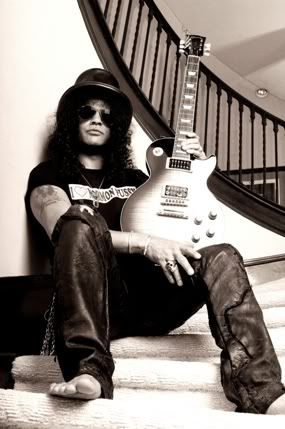 SLASH, photo credit: Robert Johns.
Following are the complete SLASH dates with Ozzy Osbourne. Note: we've placed an asterisk next to the Slash shows that he is headlining separate from the Ozzy tour.
| | | | |
| --- | --- | --- | --- |
| DATE | | CITY | VENUE |
| Sun | 1/16 | Omaha, NE | Qwest Center |
| Tue | 1/18 | Houston, TX | Toyota Center |
| Thu | 1/20 | Dallas, TX | American Airlines Center |
| *Fri | 1/21 | Wichita, KS | The Cotillion Ballroom |
| Sat | 1/22 | Kansas City, MO | Sprint Center |
| Mon | 1/24 | San Antonio, TX | AT&T Center |
| *Tue | 1/25 | El Paso TX | Speaking Rock Entertainment Center |
| Wed | 1/26 | Phoenix, AZ | Comerica Theatre |
| Fri | 1/28 | Las Vegas, NV | Mandalay Bay Resort |
| *Sat | 1/29 | Salt Lake City, UT | The Depot |
| Sun | 1/30 | Reno, NV | Reno Event Center |
| Tue | 2/1 | Los Angeles, CA | Gibson Amphitheatre |
| Thu | 2/3 | San Jose, CA | HP Pavilion |
| *Fri | 2/4 | Grand Ronde, OR | Spirit Mountain Casino |
| Sat | 2/5 | Tacoma, WA | Tacoma Dome |
| Tue | 2/8 | Denver, CO | Pepsi Center |
| Thu | 2/10 | Tulsa, OK | BOK Center |
| Sat | 2/12 | Detroit, MI | The Palace at Auburn Hills |
| *Sun | 2/13 | Chicago, IL | House of Blues |
| Mon | 2/14 | Moline, IL | iWireless Center |
| Wed | 2/16 | Nashville, TN | Bridgestone Arena |
| *Thu | 2/17 | Charlotte, NC | The Fillmore Charlotte |
| Fri | 2/18 | Tampa, FL | St. Pete Times Forum |
| Sun | 2/20 | Fort Lauderdale, FL | BankAtlantic Center |
| Tue | 2/22 | Jacksonville, FL | Jacksonville Veterans Memorial |
About SLASH:
SLASH is widely considered one of the greatest rock guitar players of all time. He has received countless accolades and awards including a 2007 induction into Hollywood's RockWalk (located in front of Guitar Center in Hollywood) alongside his idols Jimmy Page and Jimi Hendrix. An original member of iconic rock band Guns N' Roses, the Grammy-winning SLASH helped the band create signature sounds like the guitar riff of #1 hit "Sweet Child o' Mine" and "Welcome To The Jungle." The band dominated the 1980's and 90's music scene selling more than 100 million albums worldwide and ushered in a decade of hard charging rock music. After leaving the band, SLASH went on to critical acclaim in his personal project Slash's Snakepit, and global success with supergroup Velvet Revolver. He has been widely sought after by the biggest musicians of all time, performing with everyone from Michael Jackson to Stevie Wonder to Ray Charles. SLASH is one of the marquee playable characters in Guitar Hero III, has two signature Gibson guitars in his name, and authored his own top-selling biography SLASH in 2007. Slash recently landed on the top of the charts with his first true solo album, SLASH. In addition to a long career filled with prestigious awards and accolades, SLASH was just honored by the Hollywood Chamber of Commerce who named him as an official selection for 2011 to receive a star on Hollywood's iconic Walk of Fame.
For SLASH publicity, contact:
Libby Coffey/MSO 818-380-0400 x224 LCoffey@msopr.com
Mitch Schneider/MSO 818-380-0400 x235, MSchneider@msopr.com
John Ochoa/MSO (tour press) 818-380-0400 x230 JOchoa@msopr.com
###
SLASH TO JOIN OZZY OSBOURNE FOR FIVE-WEEK NORTH AMERICAN ARENA TOUR BEGINNING JANUARY 16 IN OMAHA, NE AND WRAPPING FEBRUARY 22 IN JACKSONVILLE, FL