DT: APRIL 24, 2013
FM: ANGELA VILLANUEVA, MSO PR

PALENKE SOULTRIBE
PREMIERES MUSIC VIDEO FOR "MOVE IT"
TODAY ON ARTISTDIRECT.COM
FIRST SINGLE OFF THE NEW FULL-LENGTH ALBUM
'MAR'
OUT NOW
"Palenke Soultribe jump into the global dance groove…[they] would appear to be several steps on its way down the long, winding road that leads toward the pop-music promised land."
–Reed Johnson, LOS ANGELES TIMES, 4/10/13
Afro-Colombian electronic music pioneers PALENKE SOULTRIBE premiered a music video for their new single "Move It" TODAY (4/24) on ArtistDirect.com. Watch the video now here: http://www.artistdirect.com/entertainment-news/article/video-premiere-palenke-soultribe-move-it/10490883. "Move It" marks the first single off PALENKE SOULTRIBE's new full-length album MAR, released on the duo's own Soultribe Records on April 9.
The "Move It" video was directed by Miguel Navarro, who did the same honors for PALENKE SOULTRIBE's music video for "Te Veo" (2009), and edited by Otto Scheuren, editor of PALENKE SOULTRIBE's "El Makako" music video (2012). The new video was shot on location on a dark, shady night in downtown Los Angeles and the snow-covered Angeles National Forest and features the track's vocalist Naada unleashing her inner beast.
"'Move It' talks about a constant energy flow," explains Navarro of the video concept. "Our characters never stop. They run, search, hunt and are chased. I wanted to explore the idea of that unknown energy that inhabits within us and is connected to some mysterious entities out there we don't know about."
The Colombian-born, Los Angeles-based duo—JUAN DIEGO BORDA (Vocals, Sequencer, Bass) and ANDRES "POPA" ERAZO (Vocals, Synths, Gaita)–offer a refreshingly unique sound fashioned for dance floors all over the globe: a dubby, dancefloor-friendly hybrid of electronic beats and Colombian styles–especially cumbia. "Move It" is an experiment with faster acid African-kuduro tempos.
The Los Angeles Times recently profiled the band (4/10/13). To dive deep into who they are, writer Reed Johnson visited the group at home: "Like a secular shrine, the dining-room wall of Juan Diego Borda's West L.A. bungalow is decorated with dozens of classic record-album covers. Abbey Road. Sticky Fingers. Dirty Dancing Machine. Lords of Acid vs. Detroit. For Borda and Andres "Popa" Erazo, the personable and articulate two-man electronica collective known as Palenke Soultribe, the wall is both inspirational and aspirational. It's a visual nudge, as well as a testament, to their ambitions as DJ-producer-musicians focused on importing cumbia and other Afro-Caribbean rhythms into the hissing global stew that is electronic dance music." Read the full article here: http://www.latimes.com/entertainment/music/posts/la-et-ms-palenke-soultribe-20130411,0,6527176.story.
MAR, which means "sea" in Spanish, is the second album in a trilogy and follows PALENKE SOULTRIBE's critically acclaimed 2009 LP ORO, which translates to "gold." The group's next album will be titled SANGRE, or "blood," tying the three album titles together to symbolize the three colors of the Columbian flag: yellow, blue and red.
MAR is available now.
iTunes: https://itunes.apple.com/us/album/mar/id630334502
Amazon.com: http://amzn.com/B00C6TW4Q6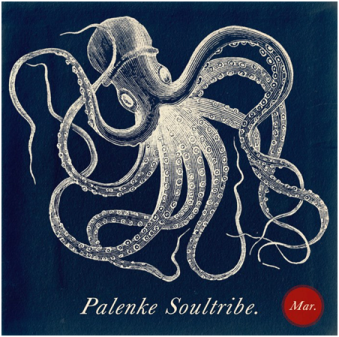 www.palenkesoultribe.com
www.facebook.com/palenkesoultribefanpage
http://twitter.com/#!/palenke
www.youtube.com/palenkesoultribe
http://palenkesoultribe.bandcamp.com
Press Releases & Assets:
www.msopr.com/n/client-roster/palenke-soultribe
###
For more information on PALENKE SOULTRIBE, contact MSO PR:
Angela Villanueva 818-380-0400 x232 avillanueva@msopr.com