DT: JANUARY 3, 2011

FORCE MEDIA MANAGEMENT
ARTIST MANAGEMENT & MUSIC CONSULTING FIRM
LAUNCHES TODAY
Music manager RANDY NICHOLS has re-launched FORCE MEDIA MANAGEMENT, it was announced today.
Based in Long Island, NY, FORCE MEDIA MANAGEMENT represents music clients UNDEROATH, THE STARTING LINE, THE ALMOST, AARON GILLESPIE and PERSON L as well as producer AARON SPRINKLE. In addition, Randy co-manages FAKE PROBLEMS and HIT THE LIGHTS with fellow FORCE manager Matt Watts. The company is comprised of overall artist management as well as offering consulting for music-based tech start-ups.

"I had a great run with Red Light Management, but I'm excited to be starting my own company which allows me to take advantage of new technologies and work with a tight team to service all my clients at an even higher level," explains NICHOLS.
Randy's career spans over 16 years of experience in the music industry, his artists have sold a combined 4 million records and continue to perform sold-out shows on six continents. His resume includes stints as an agent at Artist & Audience, tour marketing management for Wind-Up Records and the music based online advertising network Musicvision. In 2002, Randy launched Force Management which merged with Red Light Management in 2005. Matt Watts got his start in the music industry as a founding member and guitarist of The Starting Line (Drive Thru, Geffen, Virgin). Over the years, Matt developed new business endeavors for the band and found himself more invested in artist management. In 2008, after 9 years and 700,000 plus albums sold, The Starting Line went on indefinite hiatus. Matt joined Randy Nichols at Red Light Management and began co-managing Hit The Lights (Universal Republic) and Fake Problems (Side One Dummy). Matt and office manager Brooks Plummer officially joined Force Media Management beginning January 1, 2011.
Contact information for FORCE MEDIA MANAGEMENT is as follows:
FORCE MEDIA MANGEMENT:
135 Voorhis Ave
Rockville Centre, NY 11570
Office: 516.806.6500
Mobile: 516.835.7905
Fax: 516.977.7733
Randy Nichols/Force Media Management (Founder/President)
516-806-6500 ext 1
Randy@forcemm.com
Matt Watts/Force Media Management (Manager)
516.806.6500 ext 2
Matt@forcemm.com
Brooks Plummer/Force Media Management (Office Manager)
516.806.6500 ext 3
Brooks@forcemm.com
http://www.facebook.com/pages/Force-Media-Management/123333837733027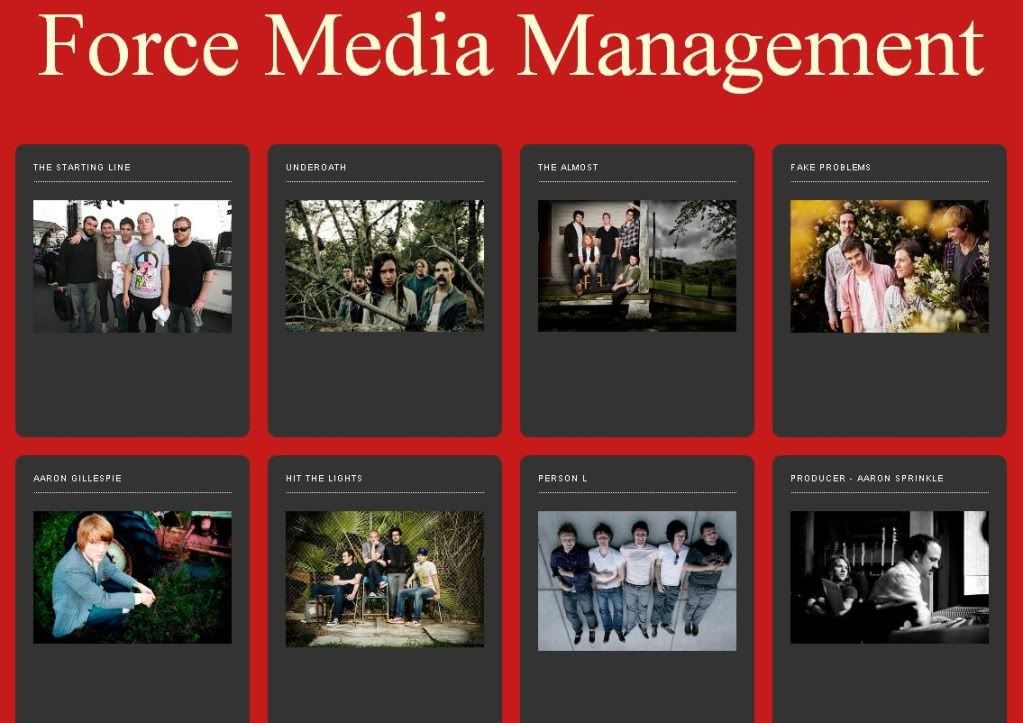 ###
FORCE MEDIA MANAGEMENT: ARTIST MANAGEMENT & MUSIC CONSULTING FIRM LAUNCHES TODAY