DT: NOVEMBER 15, 2010
FR: LIBBY COFFEY/BARI LIEBERMAN/MITCH SCHNEIDER
UNDERØATH:
ANNOUNCE MAJOR HEADLINING U.S. TOUR FOR 2011
TO LAUNCH JANUARY 20 IN HOUSTON, TX AND
WRAP FEBRUARY 27 IN FT. LAUDERDALE, FL
'Ø (DISAMBIGUATION)'
NEW ALBUM OUT NOW ON SOLID STATE/TOOTH & NAIL
UNDERØATH UNVEILS BRAND NEW WEBSITE DESIGN
WWW.UNDEROATH777.COM
"The members of Underoath agree that from the moment Davison entered the fold, the band were reborn: Song ideas began to pour forth, standard two or three hour practices organically morphed into all-night affairs and in less than two weeks, they were sitting on a record that promised to be something really special. That record is Ø (Disambiguation), the follow-up to 2008's Lost In The Sound Of Separation. Leaner, groovier and surprisingly focused in structure, the album ushers in a new era for the band."

–Brendan Manley, ALTERNATIVE PRESS (feature, December 2010)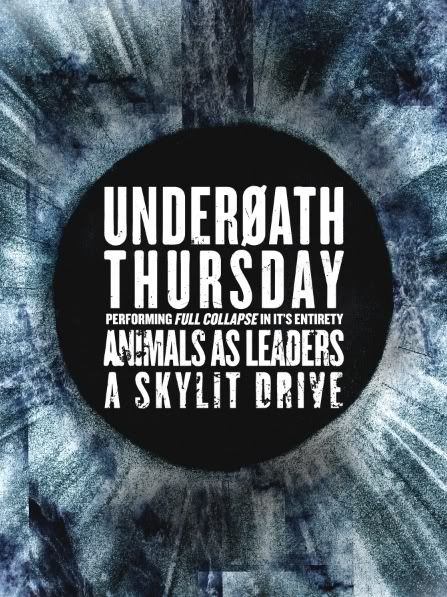 UNDERØATH–whose last four albums have sold more than 1.5 million copies–have announced they'll launch a major U.S. headlining tour for 2011 starting January 20 and wrapping February 27. Having just released their fifth studio album Ø (DISAMBIGUATION) last week (Nov. 9), the FL-based sextet are currently in the midst of a fall tour of select cities with A Day To Remember, the Word Alive and Close Your Eyes until the end of the year. Joining UNDEROATH for the 2011 trek will be longtime friends Thursday. In honor of its 10th anniversary, Thursday will perform their Full Collapse album in its entirety on the trek, Animals As Leaders and A Skylit Drive will also be supporting the entire tour which will hit 34 cities in 6 weeks (see full dates below).
In video news, UNDEROATH's striking clip for their first single "In Division" can now be seen at the group's brand new website www.underoath777.com. The dream-like clip finds the band performing in a house that becomes engulfed with water, complimenting the powerful rock track. The video is airing on MTV2's "Headbanger's Ball" which the group hosted this past week.
Pre-sale tickets for the UNDEROATH tour with Thursday, Animals as Leaders and A Sky Lit Drive are available in every city beginning at 10:00 AM (local time) today. In addition to presale tickets, UNDEROATH created an exclusive VIP ticket package to give their loyal fans a bigger and better experience. UNDEROATH VIP Packages are $59.00 each and include: 1 GA Ticket,1 Exclusive Underoath T-Shirt, 1 Commemorative VIP Show Laminate, 1 Autographed Poster and 1 Meet & Greet with UNDEROATH. Buy tickets with lower service charges here: http://tixx1.artistarena.com/underoath/.
UNDEROATH is on tour in the following cities:
DATE




CITY

VENUE

with A Day to Remember:




Fri

11/12

Toledo, OH

Headliners

Sat

11/13

Louisville, KY

Expo Five

Sun

11/14

Grand Rapids, MI

The Orbit Room

Tue

11/16

Milwaukee, WI

The Rave

Wed

11/17

Sauget, IL

Pop's

Thu

11/18

Des Moines, IA

Val Air Ballroom

Fri

11/19

Oklahoma City, OK

Diamond Ballroom

Headline Show:







Sat

11/20

Lubbock, TX

Tequila Jungle

with A Day to Remember:




Sun

11/21

El Paso, TX

Club 101

Mon

11/22

San Antonio, TX

Backstage Live

Tue

11/23

Mission, TX

Las Palmas Race Park

Wed

11/24

New Orleans, LA

House of Blues

Headline Show:







Fri

11/26

Tampa, FL

The Ritz

With A Day to Remember:




Sat

11/27

Nashville, TN

Rocketown

Sun

11/28

Memphis, TN

New Daisy Theatre

Headline Shows:







Mon

11/29

Shreveport, LA

Media Star Entertainment Hall

Tue

11/30

Birmingham, AL

Zydeco

Wed

12/1

Pensacola, FL

American Legion Hall, Post 33

U.S. Headlining Tour

With Thursday, A Skylit Drive and Animals as Leaders




Thu

1/20

Houston, TX

Warehouse Live

Sat

1/22

Dallas, TX

The Palladium Ballroom

Mon

1/24

Albuquerque, NM

Sunshine Theater

Tue

1/25

Tempe, AZ

Marquee Theatre

Wed

1/26

West Hollywood, CA

House of Blues

Thu

1/27

Anaheim, CA

House of Blues

Fri

1/28

Las Vegas, NV

Hard Rock Café Las Vegas

Sat

1/29

San Diego, CA

Soma

Sun

1/30

San Francisco, CA

The Regency Ballroom

Tue

2/1

Portland, OR

Roseland Theatre

Wed

2/2

Seattle, WA

Showbox SoDo

Thu

2/3

Spokane, WA

The Knitting Factory

Fri

2/4

Boise, ID

The Knitting Factory

Sat

2/5

Salt Lake City, UT

In The Venue

Sun

2/6

Denver, CO

The Summit Music Hall

Tue

2/8

Minneapolis, MN

First Avenue

Wed

2/9

Chicago, IL

House of Blues

Thu

2/10

Cleveland, OH

House of Blues

Fri

2/11

Buffalo, NY

The Town Ballroom

Sat

2/12

Royal Oak, MI

Royal Oak Music Theatre

Sun

2/13

Toronto, ON

Phoenix Concert Theatre

Mon

2/14

Montreal, QC

Metropolis

Wed

2/16

Pittsburgh, PA

Club Zoo

Thu

2/17

New York, NY

Terminal 5

Fri

2/18

Worcester, MA

The Palladium

Sat

2/19

Philadelphia, PA

Trocadero

Sun

2/20

New Haven, CT

Toad's Place

Tue

2/22

Washington, DC

9:30 Club

Wed

2/23

Charlotte, NC

Amos' Southend

Thu

2/24

Knoxville, TN

Valarium

Fri

2/25

Atlanta, GA

The Masquerade

Sat

2/26

Lake Buena Vista, FL

House of Blues

Sun

2/27

Ft. Lauderdale, FL

Revolution
www.underoath777.com
http://www.twitter.com/UNDEROATHband
http://www.facebook.com/underoath
UNDEROATH links:
Launch press release: http://www.msopr.com/?q=node/5792
Press release: http://www.msopr.com/?q=node/5896
Bio: http://www.msopr.com/?q=node/73
Photo: http://www.facebook.com/photo.php?fbid=10150120691878009&set=a.10150120691763009.305117.18974623008
For UNDEROATH publicity, contact MSO:
Libby Coffey (818) 380-0400 ext. 224
LCoffey@msopr.com
Bari Lieberman (818) 380-0400 ext. 222 (tour press)
BLieberman@msopr.com
###
Libby Coffey
Vice President – MSO
14724 Ventura Blvd. STE 500
Sherman Oaks, CA 91403
818-380-0400 x224
626-676-4993 (m)
LCoffey@msopr.com

UNDERØATH: ANNOUNCE MAJOR HEADLINING U.S. TOUR FOR 2011 TO LAUNCH JANUARY 20 IN HOUSTON, TX AND WRAP FEBRUARY 27 IN FT. LAUDERDALE, FL; 'Ø (DISAMBIGUATION)' NEW ALBUM OUT NOW ON SOLID STATE/TOOTH & NAIL