DT: DECEMBER 13, 2010
UNDEROATH:
AMASS CRITICAL ACCLAIM FOR NEW ALBUM
Ø (Disambiguation)
HEADLINING WINTER U.S. TOUR TO LAUNCH JANUARY 2011
UNDEROATH TEAM WITH DIRECTOR JODEB (DEFTONES)
IN MONTREAL TO HELM "PAPER LUNG" CLIP
GROUP ANNOUNCES GRAND PRIZE WINNER OF "ILLUMINATOR"
REMIX CONTEST
"…Underoath's most experimental and primal album, their most raw and mature."
–Christopher Weingarten, REVOLVER (March 2011)
"Ø (Disambiguation) is the first Underoath album in years that you'll walk away humming–even as you pick the shrapnel out of your ears."
–Aaron Burgess, ALTERNATIVE PRESS (4.5 of-5 stars review, Dec.' 10)
With Ø (Disambiguation), UNDEROATH clearly marks their future direction, a powerful, heavy rock sound with elements of electronic and metal.
Just released last month via Solid State/Tooth & Nail, Ø (Disambiguation) is garnering UNDEROATH the most positive reviews of their career yet. See the strong critical reaction (listed below) for the disc which debuted at #1 on Christian chart, #9 on the digital chart and at #22 on the Billboard Top 200 with over 23,199 albums sold in its first week.
Later this month, UNDEROATH will travel to Montreal to join forces with music video director Jodeb–who recently helmed Deftones' "You've Seen the Butcher" clip—and shoot a video for the gorgeous, melodic track "Paper Lung." In January, the group will launch a winter headlining U.S. tour with Thursday who will perform their Full Collapse album in its entirety on the trek; Animals As Leaders and A Skylit Drive will also be supporting the entire tour which will hit 34 cities in 6 weeks; see the itinerary below and purchase tickets with lower service charges here: www.underoath777.com/concerts.
In online news, to celebrate the release of Ø (Disambiguation), UNDEROATH asked fans to remix their blistering new single "Illuminator." The group, their management and label awarded Deft Key as the Grand Prize winner. "We chose Deft Key because his remix is just great all around, explains UNDEROATH keyboardist CHRIS DUDLEY. "He used all of the elements of the song, reworked them, added his own ideas, and in the end it's just a really great track." Listen to Deft Key's propulsive remix of "Illuminator" here: http://www.indabamusic.com/opportunities/underoath-remix-contest. Deft Key received $1000 and his remix is streaming now on UNDEROATH's MySpace page–with over 70 million MySpace plays and 730, 378 MySpace friends. In addition a handful of Runner's up and Honorable mentions also received prizes. To hear all of the remixes selected, visit: http://www.indabamusic.com/opportunities/underoath-remix-contest.
Here's more critical reaction so far for UNDEROATH's Ø (Disambiguation):
"After a sudden split with lone founding member, UNDEROATH emerge a leaner, meaner machine……The proof is Ø (Disambiguation) (Solid State), at once Underoath's most experimental and primal album, their most raw and mature. The band was catapulted into gold-selling Warped Tour staples by juxtaposing Gillespie's glossy, Journey-ready arena-rock 'clean hooks' with Chamberlain's blood-splatter barking. But with Chamberlain now the band's lone vocalist, his performances are more personal, unpolished, intimate, and ugly. The tug-of-war between Gillespie's pop aspirations and the other members' headbanger hearts has been won in the name of metal–sure, they're still good Christian boys, but it's achingly clear that the dark side of the force is strong."
–Christopher Weingarten, REVOLVER, March 2011
"UNDEROATH sound like a band reborn, unleashing their sonic turmoil with punishing new energy and sinister focus. …Disambiguation comes laden with a darker, brooding palette of sounds. It's one that sees Chamberlain backed by an ever dexterous soundboard of molten riff disorder that has assimilated the heavier moments of the Deftones back cat-try the melancholic chorus surge on 'Illuminator'-without making it too obvious. And even when it is on 'Paper Lung's' dreamy gloom mantra, their ability to wrap beautiful melodies around a saturated heave of riffage and summon a field full of burning amps is a pretty neat trick. The tantalizingly short Aphex Twin-style e-clatter introducing opener 'In Division' gets embraced so completely on 'Driftwood'-a shuffling Kid A tribute and one of UNDEROATH's most experimental moments-you wish they'd do it immediately again. And given the sheer sense of rejuvenation on the record, there's every chance they will."
–Catherine Yates, DECIBEL (7 out-of-10 stars, CD review, January 2011
"The word "Disambiguation"-the title of Underoath's seventh album-refers to the clarity that occurs after a source of ambiguity is removed. It would be wrong to interpret the title as a jab at departed drummer/co-vocalist Aaron Gillespie, for the metalcore band's earnest mash-up of shouted and cleanly sung vocals (of which Gillespie provided the latter) never lacked perspective or style. But by using the line-up shift as a chance to explore different terrain–namely eschewing pop choruses and traditional vocals–Underoath's sprawling, at times disquieting music is newly realized. Flashes of U2, Thrice and Dillinger Escape Plan are evident throughout the album, whose free-flowing grace is apparent even during throbbing slightly off-kilter cuts like 'In Division,' 'lluminator' and 'A Divine Eradication.' That ambience becomes more striking when the sextet lets itself completely unfurl during the gentler 'Paper Lung' and prog-jam closer 'In Completion.'
–Christa Titus, BILLBOARD (CD Review, December 4, 2010)
"…an awesome uncompromising collection of proper metal."
–James Gill, METAL HAMMER, (December 2010)
"When you hear 'Grammy-nominated,' 'Billboard Top 10,' and 'Gold-certified,' your mind probably doesn't leap to heavy music, but all three of these accolades have been imparted on the post-hardcore band UNDEROATH. It doesn't take much exposure to the sextet to understand why, though; Arguably, punk rock, metal, and experimental music have never been married with such earth-quaking dexterity, only to, ironically have the finished product feel so accessible. …Strip away UNDEROATH's beliefs and you're still left with some of the most sophisticated mind-bending, labored-over heavy music that's ever been written. Ø (Disambiguation) is a heavy music triumph."
–Ryan Burleson, CONSQUENCE OF SOUND, (4 out-of-5 stars review, December 9, 2010)
"…Underoath's latest incarnation sounds confident, brutal, and cohesive. …[Chamberlain] plays a large part in Ø (Disambiguation)'s success, applying his well-honed guttural and clean vocal styles with deadly accuracy. Darker and more immersive than previous outings, Underoath treads familiar ground, though each step holds the promise of a land mine (opening track "In Division" initially presents itself as a screamo-fest before launching into a dense, sludgy, Alice in Chains-inspired chorus), and when the band is firing on all cylinders ('Paper Lung', 'In Completion,' 'Divine Eradication') there is little in the way of competition that offers even a vague threat."
–James Christopher Monger, ALL MUSIC, (4-out-of-5-stars CD review, Dec. 2010)
"[Ø (Disambiguation) is] Leaner, groovier and surprisingly focused in structure, the album ushers in a new era for the band."
–Brendan Manley, ALTERNATIVE PRESS (Feature, December 2010)
"UNDEROATH's Ø (Disambiguation is a coalescence of melody and ferocity."
–Andrew Hard, OREGON MUSIC NEWS (November 13, 2010)
"[UNDEROATH] unleash a sound they've been hunting for years: a more visceral, encompassing marriage of atmosphere, punk rock and metal that comes together swimmingly on their latest effort, Ø (Disambiguation)."
–Ryan Burleson, NASHVILLE SCENE (November 27, 2010)
"With Ø (Disambiguation) the band seems to collectively be in that 'hungry' and 'out to prove something' mindset that usually produces great music and even greater live shows."
–Doug Van Pelt, HM MAGAZINE, (Cover story, December 2010)
"The stunning 'Paper Lung,' which is one of the best songs the sextet has ever created, floats along like it's lost at sea–until it is brought to its knees by an absolutely crushing breakdown that hits like a tidal wave over the course of the final minute."
–Drew Beringer, ABSOLUTE PUNK, (9-out-of 10 stars CD review, November 2010)
"UNDEROATH's new sound is a change for the better. 'Paper Lung,' easily the best song on the record is the closest to post-metal UNDEROATH has come. The song is three minutes of slow, thick, atmospheric music before exploding into the heaviest minute of the album."
–Allen Baldwin, THE SHORTHORN (4.5-out-of- stars review, Univ. of Texas, Nov 10, 2010)
"Regardless of what they've done before, the band took everything in stride and created another behemoth of sound with Ø (Disambiguation), an album meant to stand as a testament to the layered, atmospheric and often heavy sound this band has nurtured over their past few records. More often than not, bands are watering down their sound to attract more fans and radio play. UNDEROATH is not one of those bands. Further challenging listeners with jarring time signatures and a chameleon-like songwriting approach, UNDEROATH stands atop the mountain not only for their willingness to push the envelope, but for their unwavering desire to carry on."
–Jason Gardner, REVIEW RINSE REPEAT (CD Review, November 2010)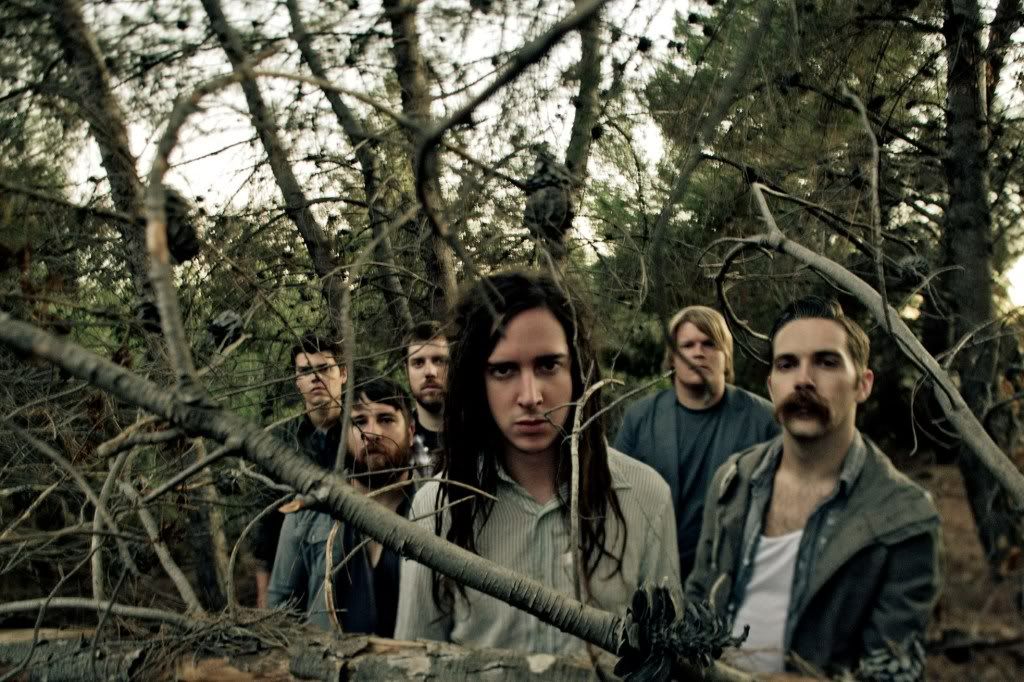 UNDEROATH Winter 2011 headlining dates are as follows:

DATE

CITY

VENUE

UNDEROATH

Headlining show

Tue

1/18

Tallahassee, FL

The Engine Room

UNDEROATH Winter 2011

Headlining U.S. Tour

with Thursday, Animals as Leaders and A Skylit Drive

Thu

1/20

Houston, TX

Warehouse Live

Fri

1/21

Austin, TX

Emo's

Sat

1/22

Dallas, TX

The Palladium Ballroom

Mon

1/24

Albuquerque, NM

Sunshine Theater

Tue

1/25

Tempe, AZ

Marquee Theatre

Wed

1/26

Los Angeles, CA

House of Blues-Sunset

Thu

1/27

Anaheim, CA

House of Blues-Anaheim

Fri

1/28

Las Vegas, NV

Hard Rock Café Las Vegas

Sat

1/29

San Diego, CA

Soma

Sun

1/30

San Francisco, CA

The Regency Ballroom

Tue

2/1

Portland, OR

Roseland Theatre

Wed

2/2

Seattle, WA

Showbox SoDo

Thu

2/3

Spokane, WA

The Knitting Factory

Fri

2/4

Boise, ID

The Knitting Factory

Sat

2/5

Salt Lake City, UT

In The Venue

Sun

2/6

Denver, CO

The Summit Music Hall

Tue

2/8

Minneapolis, MN

First Avenue

Wed

2/9

Chicago, IL

House of Blues

Thu

2/10

Cleveland, OH

House of Blues

Fri

2/11

Buffalo, NY

The Town Ballroom

Sat

2/12

Royal Oak, MI

Royal Oak Music Theatre

Sun

2/13

Toronto, ON

Phoenix Concert Theatre

Mon

2/14

Montreal, QC

Metropolis

Wed

2/16

Pittsburgh, PA

Club Zoo

Thu

2/17

New York, NY

Terminal 5

Fri

2/18

Worcester, MA

The Palladium

Sat

2/19

Philadelphia, PA

Trocadero

Sun

2/20

New Haven, CT

Toad's Place

Tue

2/22

Washington, DC

9:30 Club

Wed

2/23

Charlotte, NC

Amos' Southend

Thu

2/24

Knoxville, TN

Valarium

Fri

2/25

Atlanta, GA

The Masquerade

Sat

2/26

Lake Buena Vista, FL

House of Blues

Sun

2/27

Ft. Lauderdale, FL

Revolution
www.underoath777.com
http://twitter.com/UNDEROATHband
http://www.facebook.com/underoath
UNDEROATH links:
BIO: http://www.msopr.com/?q=node/73
PRESS RELEASES:
http://www.msopr.com/?q=node/5937
http://www.msopr.com/?q=node/5792
http://www.msopr.com/?q=node/5896
VIDEO "In Division": www.underoath777.com
CRITICAL SOUNDBITES: http://www.msopr.com/files/Underoath-Critical_Soundbites.pdf
PHOTO (credit Travis Shinn):
http://www.msopr.com/files/Underoath%20New%20Photo.JPG
For UNDEROATH publicity, contact MSO:
Libby Coffey (818) 380-0400 ext. 224
LCoffey@msopr.com
Bari Lieberman (818) 380-0400 ext. 222 (tour press)
BLieberman@msopr.com
###
UNDEROATH:
AMASS CRITICAL ACCLAIM FOR NEW ALBUM Ø (DISAMBIGUATION); HEADLINING WINTER U.S. TOUR TO LAUNCH JANUARY 2011